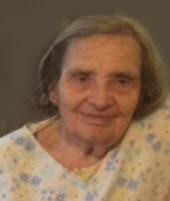 Obituary for Ana J. Barroso
NEW BEDFORD-Ana J. (Barroso) Barroso, 87, of New Bedford, died Saturday, June 22, 2019 at her home surrounded by her family and church family after a lengthy period of declining health. She was the wife of Acacio Barroso with whom she shared 56 years of marriage and daughter of the late Jose Joaquim Barroso and Rosa Goncalves Dos Santos.
Born in Castanheira da Cha, Montalegre, Portugal, she came to this country in 1973 and was a devoted parishioner of Luso-American Assembly of God Church since 1985.
Mrs. Barroso's greatest joy was caring for her family. She also enjoyed vegetable gardening and caring for her chickens. Her family includes her husband, Acacio Barroso of New Bedford; 2 daughters, Maria Julia Barroso and husband Leonel Jorge of New Bedford and Maria Alice Barroso and husband Mustafa Outaleb of France; 1 son, Jose Manuel Barroso of New Bedford and fiancee Margo "Kandy" Barboza; 1 brother, Antonio Barroso his wife Fatima of France; 2 sisters, Laurinda Fernandes and husband Antonio of New Bedford, Teresa Vieira and husband Jose of Portugal; several nieces, nephews and great-nieces and great-nephews; four legged grandchildren, Cow, Rusty and Diamond.
A Celebration of Life will be held on Sunday, August 18, 2019 at 10:00 a.m. at Luso American Assembly of God Church, 82 Cove Street, New Bedford, MA. In lieu of flowers, donations may be made to the Philippines Mission c/o Luso American Assembly of God Church, P.O. Box 2082, New Bedford, MA 02741.
Private funeral arrangements entrusted to AUBERTINE-LOPES FUNERAL HOME, 129 Allen Street.