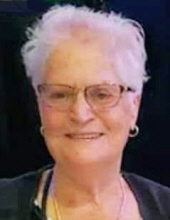 Obituary for Ana Salgado
NEW BEDFORD-Ana (De Oliveira Batista) Salgado, 82, of New Bedford, died Saturday, July 11, 2020 at home surrounded by her loving family. She was the widow of Jaime Salgado and daughter of the late Antonio Maria Batista and Maria Dos Anjos Oliveira.
Born In Monte Murtosa, Aveiro, Portugal, she emigrated with her family to New Jersey 1975 and relocated to New Bedford in 1977.
Mrs. Salgado was a parishioner of Our Lady Of Mount Carmel Church.
She was employed as a machine operator at Columbia Electronics several years ago.
Known as a very social person, she enjoyed dining out and was happiest when surrounded by her family.
Her family includes her children, Maria A. Salgado and her fiancé, Marcelino Cabral, Jorge O. Salgado and his wife, Maria and Palmira D. DaPonte (late husband, José), all of New Bedford and Jaime M. Salgado and his wife, Jean of Dartmouth; 10 grandchildren, Susana I. Calheta, Nancy Calheta, Dulce M. Esteves, Nelson A. Esteves, Andrea Fernandes, Paulo Salgado, Jorge M. Salgado, Jr., Melissa DaPonte, Jessica DaPonte and Kayla DaPonte; 12 great-grandchildren, Devin and Dylan Calheta, Austin, Mariah and Michael Calheta, Kylie and Kaitlen Carpenter, Giovanni Fernandes, Jayce Salgado, Hayden and Jacob Paradise and Ariana DaPonte; several nieces and nephews.
She was the sister of the late José Batista, Antonio Batista, Delfina Silva, Maria A. Batista and Augusto Batista.
Her Mass of Christian burial will be celebrated in Our Lady Of Mount Carmel Church Wednesday, July 15, 2020 at 10:30 A.M. Visitation in the funeral home prior to the Mass from 8:30-10:00 A.M. Interment in Monte Murtosa, Aveiro, Portugal.
Due to current restrictions, face coverings are required and the number of attendees is limited in the funeral home and church.
In lieu of flowers, donations may be made in her memory to Community Nurse And Home Care, 62 Center Street, Fairhaven, MA 02719.
Funeral arrangements entrusted to AUBERTINE-LOPES FUNERAL HOME, 129 Allen St., New Bedford.
For online guestbook and directions, please visit www.aubertine-lopes.com.