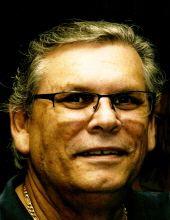 Obituary for Angel L. Bibiloni Rivera
NEW BEDFORD-Angel L. Bibiloni Rivera, 68, of New Bedford, died Tuesday, November 12, 2019 at home surrounded by his loving family. He was the husband of Marie-Rayleen G. (Morin) Bibiloni with whom he shared 31 years of marriage and son of the late Angel L. Bibiloni and Olga (Rivera) Alvarado.
Born in San Lorenzo, Puerto Rico, he moved to Connecticut when he was 18 years old also residing in Texas, Georgia, Florida, England and New Bedford.
Angel was a U.S. Army veteran and attained the rank of SP4. His decorations include the National Defense Service Medal, Sharpshooter (Hand Grenade) and Expert (Rifle M-16A1).
Angel was employed as an echocardiologist at St. Luke's Hospital until his retirement.
He will be remembered for his extensive baseball cap collection and model car collection, some of which he built himself. His passion was working on cars and he also raced for a time while residing in Florida. Angel played guitar for the band "Orion" and was also a huge Beatles fan.
His family includes his wife; 3 daughters, Dawn Hicks and her husband, Juan of New Bedford and Yadira Muniz and Yessenia Montanez, both of Connecticut; 2 sons, Kurt DaSilva of New Bedford and Angel Bibiloni of Germany; 1 sister, Elizabeth Bibiloni; 3 brothers, Eduardo Sanchez, Jose Martinez and Mario Martinez; 10 grandchildren, Jasmin, Jaina Eric, Alex, Yessica, Joslyn,Tiana, Joshua, Isiah and Elijah; 6 great-grandchildren; several nieces and nephews.
He was the brother of the late Betsy Iglesias, Sadie Fuentes, Carlos Martinez and Gabriel Sanchez.
Visiting hours Friday, November 15, 2019 from 4:00-7:00 P.M. with a service to be conducted at 6:00 P.M. and military honors. at 6:45 P.M. Cremation to follow.
In lieu of flowers, donations may be made in Angel's memory to American Liver Foundation, 188 Needham St., Suite 240, Newton, MA 02464 or you may donate online at liverfoundation.org.
Funeral arrangements entrusted to AUBERTINE-LOPES FUNERAL HOME, 129 Allen St., New Bedford.