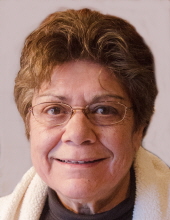 Obituary for Augusta "Gussie" Mello
Augusta "Gussie" Mello passed away peacefully at St. Luke's Hospital surrounded by her family on March 14th following a brief but valiant battle with pancreatic cancer. She was 73.

Born in Pastoria, Portugal she emigrated to the United States in 1960. She met Robert A. Mello with whom she shared 55 years of marriage. In addition to her loving husband she is survived by her sister and best friend, Maria Tavares, and her husband, Gilberto, of New Bedford; her daughter, Lyn Mello, of Haverhill, and her partner, Paula Obrien of Seekonk; her son, Alan Mello, and his wife, Kathryn, of Dartmouth; 4 grandchildren-Andrew Mello, Ian Mello, Alyson Mello and Ciara Anderson-Mello as well as nephews, godchildren and other extended family.

Gussie embodied the American Dream. She often commented that she was "more American" because she chose the citizenship rather than it being a fluke of where one was born.

She retired in 2006 after working as a hairdresser for 37 years. As she got into her car on that final day of work, a customer remarked, "I guess you're doing OK driving a fancy car." Her response was, "Given that my first mode of transportation was a donkey and now I'm driving a Cadillac I would say I'm doing just fine," and drove away.

Gussie loved a good joke and a dry martini. Most of all she loved her family.

Services are private.
In lieu of flowers donations can be made to Dana Farber Cancer Institute in her memory.