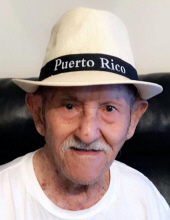 Obituary for Daniel Ruiz
NEW BEDFORD-Daniel Ruiz, 93, of New Bedford, died Thursday, January 30, 2020 at home following a period of declining health. He was the husband of Cruz Ruiz with whom he shared 42 years of marriage and son of the late Isabel and Anastacia (Soto) Ruiz.
Born in Aguadilla, Puerto Rico, he relocated to New York in 1958 and also resided in New Jersey, Chicago, Milwaukee, Philadelphia and New Bedford.
Mr. Ruiz was employed as a maintenance man at O'Hare Airport in Chicago several years ago.
He was also a self-employed baker and was well know for his delicious doughnuts.
He enjoyed fishing in his leisure time.
His family includes his wife; 5 sons, Wilfredo Ruiz, Alejandro Ruiz, Rueben Ruiz and Daniel Ruiz, Jr., all of New Bedford and Andre Ruiz of Indiana; 5 daughters, Isabel Ruiz, Sandra Ruiz, Betzaida Ruiz and Helenia Ruiz, all of New Bedford and the late Olga Ruiz; 4 step-sons, Jose Garcia, Santos Garcia, Carlos Ruiz and Enrique Ruiz, all of Milwaukee, Wisconsin; 7 step-daughters, Carmen Garcia of New Bedford; Migdalia Garcia, Maria Garcia and Juana Garcia, Carmen Judy Ruiz and Ida Ruiz, all of Milwaukee, Wisconsin and Juana Ruiz of Puerto Rico; 1 sister, Gloria Ruiz of Puerto Rico; many grandchildren and great-grandchildren, nieces and nephews.
He was predeceased by his brother, Eduardo Ruiz and several other brothers and sisters.
His service will be conducted in the funeral home on Tuesday, February 4, 2020 at 10:00 A.M.
Visiting hours prior to the service from 8:00 A.M. to 10:00 A.M. Interment in Rural Cemetery.
Funeral arrangements entrusted to AUBERTINE-LOPES FUNERAL HOME, 129 Allen St., New Bedford.