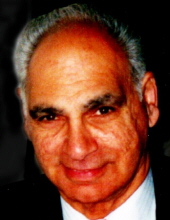 Obituary for Donald L. Craveiro
NEW BEDFORD-Donald L. Craveiro, 87, of New Bedford, died Wednesday, January 8, 2020 at home surrounded by his loving family following a brief illness. He was the beloved husband of Eleanor R. B. (Bowler) Craveiro with whom he shared over 64 years of marriage and son of the late Manuel Lopes Craveiro and Mary V. (Cardoso) Craveiro.
Donald was born in New Bedford and was a lifelong resident. He was an active and devoted member of Pilgrim United Church of Christ. He assisted with Mercy Meals And More providing the needy with a hot breakfast and was affectionately known as the "pancake man". He was also a member of the Holy Name Couples Club.
Donald was a proud U.S. Army veteran of the Korean Conflict attaining the rank of Corporal. His many decorations include the Korean Service Medal, United Nations Service Medal, National Defense Service Medal and the Merit Unit Commendation. He was a member of VFW Tuttle Post 7239 Acushnet and American Legion Post 459.
Donald was employed as a route salesman for Nissen Baking Company and as a supervisor for Ward Foods for 11 years. He was also employed as a custodian for the New Bedford Public Schools.
Following his full time employment, Donald worked as a Funeral Attendant at several area funeral homes including Aubertine-Lopes Funeral Home, Machnowski Funeral Home, Hathaway Funeral Homes and Donaghy Funeral Home. He was a valued employee known for his strong work ethic and conscientiousness.
His family includes his wife; his son, Mark W. Craveiro of New Bedford ; 3 daughters, Donna L. Sawyer of Silver Spring, MD, Lois A, Craveiro of New Bedford and the late Laurie A. Brunette; 6 grandchildren, Jeff Brunette, Catherine DeMello-Fitzgerald, Zakaray Brunette, the late Barbie Brunette, Anna Sawyer and Wesley Sawyer; 4 great-grandchildren, Benjamin Brunette, Andrew Brunette, Tyler Brunette and Cole Brunette; 2 nephews, Roger Craveiro and Ronald Craveiro and several other nieces and nephews. He was the brother of the late Walter Craveiro.
His committal service with military honors will be conducted in Massachusetts National Cemetery at a time to be announced.
Kindly omit flowers. Donations may be made in Donald's memory to Pilgrim United Church Of Christ, 635 Purchase St., New Bedford, MA 02740.
Funeral arrangements entrusted to AUBERTINE-LOPES FUNERAL HOME, 129 Allen St., New Bedford.