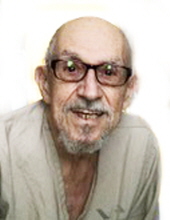 Obituary for Ernest P. Medeiros
NEW BEDFORD-Ernest P. Medeiros, 87, of New Bedford died Friday, June19, 2020 at St. Luke's Hospital following a brief illness. He was the widower of Ines (Pacheco) Medeiros and son of the late John P. and Mary M. Medeiros.
Mr Medeiros was born in New Bedford and was employed as a foreman mechanic at New Bedford Airport until his retirement.
He was a U.S. Army veteran of the Korean Conflict and was assigned to SCARWARF. He attained the rank of corporal and his decorations include the National Defense Service Medal, United Nations Service Medal and the Korean Service Medal.
Mr. Medeiros was a member of the American Legion, Post 1, Prince Henry Society and Knights Of Columbus.
His family includes his daughters, Nancy P. Medeiros of New Bedford, the late Gail Carol Medeiros Martin, son-in-law, Anthony Martin and his wife, Paula of Dartmouth and 2 granddaughters, Shannon P. G. Medeiros and Gailerin M. Medeiros.
In lieu of flowers, donations may be made to Humane Society & Shelter Southcoast, 31 Ventura Drive, Dartmouth, MA 02747 or Fort Taber-Fort Rodman Historical Association, 1000C Rodney French Blvd., New Bedford, MA 02744.
His graveside service with military honors will be conducted in St. John Cemetery on Saturday, July 18, 2020 at 9:30 A.M.
Funeral arrangements entrusted to AUBERTINE-LOPES FUNERAL HOME, 129 Allen St., New Bedford.