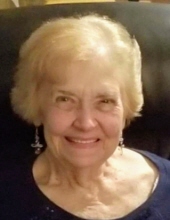 Obituary for Gertrude M. Maiato
The Lord has called His Angel Gertrude M. Maiato/Fortin.
Born in New Bedford, Mass., she was the daughter of Adelard Angers and Eva Violette.
She graduated from St. Anthony's and worked as a secretary for many years in the New Bedford area before moving to Springhill, Florida and then Palm Coast, Florida where she was a CNA and a Home Health Care worker.
She is survived by her husband, Dinarte Maiato. She was the widow of Eugene Fortin. She is also survived by her sons, David E, Fortin of E. Freetown, Philip J. Fortin and his wife, Jayne of Berkley; her daughter, Janine Sorel and her husband, Mark of E. Freetown; Ozwald Richardo and Anna Maiato all of Palm Coast, Florida; her brother, Adelard R. Angers and his wife, Irene of Springhill, Florida; her grandchildren, Caleb Sorel, Vicki Taylor, Jessica Lavoie and her husband, Jamie, Sarah Zaniewski and her husband, Donny, Joyce Derose, Brenda Fortin, Janet Fortin and David S. Fortin; 10 great-grandchildren and several nieces and nephews.
She was the sister of the late Doris Zych.
Her memorial service and celebration of her life in Christian Fellowship Center, 822 Church St., New Bedford, MA 02745 has been POSTPONED AND WILL BE RESCHEDULED AT A TIME TO BE ANNOUNCED.
Funeral arrangements entrusted to AUBERTINE-LOPES FUNERAL HOME, 129 Allen St., New Bedford.