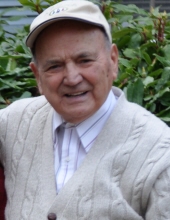 Obituary for Leonardo das Neves
NEW BEDFORD-Leonardo das Neves, 90, of Dartmouth, died unexpectedly Wednesday, March 11, 2020 at St. Luke's Hospital. He was the husband of Mary O. (Goulart) das Neves with whom he would have celebrated 64 years of marriage in July and son of the late João Leonardo and Maria (Lopes) das Neves.
Born in São Jorge, Açores, Mr. das Neves was an admired and highly respected member of the community there and worked tirelessly to assist others in any capacity. He was the proprietor of the local variety store and taxi service, served as the village photographer and received training to administer medication to the residents. Mr. das Neves resided in Dartmouth for more than 40 years and previously resided in New Bedford.
He was a parishioner of Our Lady Of Mount Carmel Church and was a member of Irmandade do Divino Espirito Santo do Pico.
Mr. das Neves was employed as a polisher at Johnson & Johnson until his retirement.
He was extremely proud of his family and especially enjoyed spending time with his grandchildren and great-grandchildren. He was an avid photographer and in his leisure time enjoyed tending to his vegetable and fruit gardens.
His family includes his wife; 1 daughter, Maria F. Pimentel and her husband, George of Dartmouth; 1 son, Leonard das Neves and his partner, Jenny Smith of Dartmouth; 1 brother, Feliciano das Neves and his wife, Arlene of New Bedford; 2 grandchildren, Katelyn Pedro and her husband, Nicholas and Matthew Pimentel and his partner, Carina Carreiro; 3 great-grandchildren, Ethan and Olivia Pedro and Theodore Pimentel and several nieces and nephews.
He was the brother of the late Lafaiete L. Neves, Maria Leonisa das Neves Costa and Maria Lucia das Neves DeMello.
Visiting hours in the funeral home Sunday, March 15, 2020 from 2:00-6:00 P.M. His funeral will be conducted on Monday, March 16, 2020 at 8:00 A.M. from the funeral home with a Mass of Christian burial to be celebrated in Our Lady Of Mount Carmel Church at 9:00 A.M. Interment in St. John Cemetery.
Funeral arrangements entrusted to AUBERTINE-LOPES FUNERAL HOME, 129 Allen St., New Bedford.
For online guestbook, directions and additional information, please visit www.aubertine-lopes.com.

IMPORTANT ANNOUNCEMENT
During this period of heightened awareness due to the Corona virus, we have taken proactive measures to keep the general public as safe as possible. We have multiple hand sanitizer stations and ask that you use them liberally when visiting. Common areas will be cleaned every 15 minutes or when possible. We ask all attendees to exercise personal responsibilities and common sense when paying respects. If you feel ill, please stay at home and send a card or online condolence. We are guided by the city of New Bedford Health Department and CDC and we will enforce their policies as they become available.

Thank you.