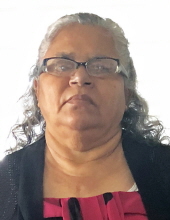 Obituary for Lourdes Morales Pacheco
NEW BEDFORD-Lourdes Morales Pacheco, 62, of New Bedford, died Monday, November 11, 2019 at St. Luke's Hospital following a period of declining health. She was the wife of Essau Santiago and daughter of Lidia Pacheco of Puert Rico and the late Miguel Morales.
Born in Yauco, Puerto Rico, she came to New Bedford in 2001 and resided here for 14 years. She then returned to Puerto Rico and once again came back to New Bedford this past October.
Lourdes was a devoted mother and homemaker.
Her family includes her husband; her mother; 1 daughter, Zoraida Ayala and her husband, Ronis of New Bedford; 2 sons, Esaud Santiago and Linardo Santiago, both of New Bedford; Her siblings, Raquel, Gloria, Abigail and Richard Morales; 3 grandchildren, Antonio, Roanis and Ronis; 3 great-grandchildren, Jaden, Kaelyane and Dylan. She was the mother of the late Miguel Angel Santiago and sister of the late Florencio, Efrain, Noemi and Neftali Morales.
Visitation in the Centro Cristiano Emanuel Church, 123 Church Street, New Bedford, MA 02746 on Thursday, November 14, 2019 beginning at 7:30 P.M. Interment in Cementerio Municipal, Yauco, Puerto Rico.
Funeral arrangements entrusted to AUBERTINE-LOPES FUNERAL HOME, 129 Allen St., New Bedford.