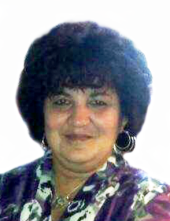 Obituary for Maria I. Collazo
Maria
Maria Isabel Collazo was born March 15, 1964 in San Juan, Puerto Rico to Guillermo and Carmen Collazo with sisters Carmen, Wanda and brothers Guillermo, Carlos and Miguel. She is preceded in death by her parents and brother Miguel. She leaves behind her beloved Taito, son Luis and daughters Maria and Layota, and 10 grandchildren.
Living in Massachusetts for most of her life, Maria loved living in the *Cardinal Medeiros Towers where she lived among countless lifelong friends and neighbors. She will always be remembered for her generous nature and love of cooking.
Visiting hours in the funeral home on Thursday, July 11, 2019 from 6:00-8:00 P.M. with a service to be conducted at 7:30 P.M. The family invites relatives and friends to attend.
In lieu of flowers, donations may be made in Maria's memory to Dana-Fraber Cancer Institute, P.O. Box 849168, Boston, MA 02284 or online at www.dana-farber.org/gift.
Funeral arrangements entrusted to AUBERTINE-LOPES FUNERAL HOME, 129 Allen St., New Bedford.