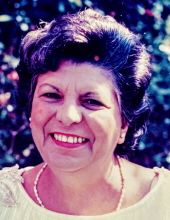 Obituary for Mary L. Stephenson
PROVIDENCE-Mary L. Stephenson, 96, of Bristol RI, died Saturday, July 18, 2020 at HopeHealth Hulitar Hospice Center following a period of declining health.
Born Maria Luisa Eleuterio in New Bedford to the late Francisco S. and Donatilia M. (Pimental) Eleuterio, she was the widow of William H. Stephenson.
Mrs. Stephenson resided in New Bedford for most of her life before relocating to Bristol, Rhode Island in 2000
She was employed as a traffic controller at Cornell Dubilier until her retirement and previously was employed at Aerovox.
Her family includes her two sons, Dr. Lawrence P. Stephenson and his wife, Beth A. Stephenson, 2 grandchildren, Olivia G. Stephenson and Grayson P. Stephenson of Lincoln, RI and Mark W. Stephenson of No. Providence, RI; 1 brother, Dr. Herbert (Humberto) S. Eleuterio and his wife, Maryanne of Wilmington, DE and 1 sister, the late Natalie (Natalia) Richard ; and many beloved nieces and nephews.
You displayed a calm, tranquil composure and restraint never raising your voice in anger, even when facing the difficult and intolerable. Always placing others first.
You left us peaceful memories
your love is still our guide
and though we cannot see you,
You are always at our side
Our family chain is broken,
and nothing seems the same.
But as God calls us one ... by one ...
The chain will link again.
May you Rest In Peace.
In lieu of flowers, donations may be made in her memory to the charity of one's choice.
Private funeral arrangements entrusted to AUBERTINE-LOPES FUNERAL HOME, 129 Allen St., New Bedford.