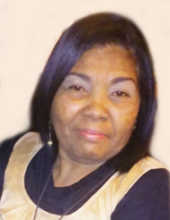 Obituary for Priscila Lopez
NEW BEDFORD-Priscila Lopez also known as Priscila Lopez Escobar, 59, of New Bedford, died Saturday, June 29, 2019 at St. Luke's Hospital. She was the companion for 36 years of Aurelio Velazquez of New Bedford and daughter of the late Carmelo Lopez Pacheco and Angelina Escobar Ceballos.
Born in Canovanas, Puerto Rico, she resided in New Bedford since 2006.
Priscila enjoyed dancing, playing diminoes and fishing.
Her family includes her companion; her son, Gaby Velazquez Lopez and his companion, Emeli Cruz of New Bedford; 1 brother, Moises Lopez Escobar of Puerto Rico; 2 sisters, Dalilia Lopes Escobar of Puerto Rico and Dinelia Lopez Escobar of Connecticut; 2 grandchildren, Jairelis Velazquez and Marielis Velazquez and several nieces and nephews.
Her service will be conducted in the funeral home on Friday, July 12, 2019 at 11:00 A.M. Visitation prior to the service from 9:00-11:00 A.M.
Interment in Rural Cemetery.
Funeral arrangements entrusted to AUBERTINE-LOPES FUNERAL HOME, 129 Allen St., New Bedford.