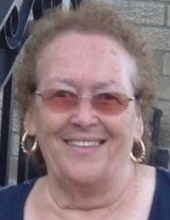 Obituary for Zelia B. Camara
NEW BEDFORD-Zelia (Barbosa) Camara, 83, of Dartmouth, formerly of New Bedford, died Sunday, June 23, 2019 at St. Luke's Hospital. She was the widow of Herminio Camara and daughter of the late Jose and Margarida (Raposo) Barbosa.
Born in Lombinha de Maia, St. Michael, Azores she came to New Bedford in 1980 and recently moved to Dartmouth.
She was employed as a field worker in St. Michael, Azores.
Mrs. Camara was a member of the Last Door Church in New Bedford.
She enjoyed listening to Christian music, watching television and most of all, spending time with her family.
Her family includes her 2 sons, Fernando H. Silva and his wife, Antonia of Dartmouth and Joe da Silva and his wife, Isaura of Kingston, Canada; 3 daughters, Fatima Beleza and her husband, Tiago of Kingston, Canada, Crisiolina Barboza of Kingston, Canada and Margarida Cordeiro of London, Ontario, Canada; 1 sister in St. Michael Azores; many grandchildren, great-grandchildren and several nieces and nephews.
She was predeceased by 1 sister.
Private funeral arrangements entrusted to AUBERTINE-LOPES FUNERAL HOME, 129 Allen St., New Bedford.