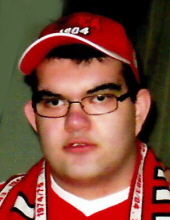 Obituary for Carlos Alberto Barreira
NEW BEDFORD-Carlos Alberto Barreira, 30, of New Bedford, died unexpectedly Thursday, June 11, 2020 at St. Luke's Hospital with his mother and sister by his side. He was the beloved son of Maria Ester (Pereira) Barreira and the late Carlos Manuel Barreira.
Carlos Alberto was born in New Bedford and was a lifelong resident. He was a parishioner of Our Lady Of The Immaculate Conception Church and was a member of the Senhora da Pedra Club.
Carlos Alberto attended S.M.E.C. and Active Day of Fairhaven.
His greatest joy was spending time with his family and he was a proud uncle of his baby niece, Beatriz. Carlos Alberto was loved by all who knew him and he touched our hearts and lives in so many ways.
He was an avid fan of Benfica and Santa Clara soccer teams and was a member of the Casa Benfica Social Club in New Bedford and the Benfica Social Club in Portugal. Carlos Alberto has been reunited with his father in heaven and they can once again watch soccer games together.
His family includes his mother, Maria Ester Barreira; his sister, Ana Madeira and her husband, Brian and their daughter, Beatriz Madeira; aunts, uncles and cousins. He was the brother of the late Ana Barreira.
His visitation, Mass of Christian burial in Our Lady Of The Immaculate Conception Church and interment in Rural Cemetery are for family only.
Funeral arrangements entrusted to AUBERTINE-LOPES FUNERAL HOME, 129 Allen St., New Bedford.
For online guestbook. please visit www.aubertine-Lopes.com.