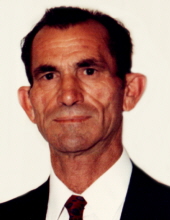 Obituary for Diamantino S. Fidalgo
NEW BEDFORD-Diamantino S. Fidalgo, 86, died Saturday, July 18, 2020 at St. Luke's Hospital following a period of declining health. He was the beloved husband of Maria José (Nascimento Cruz) Fidalgo with whom he shared 58 years of marriage and son of the late Joaquim Maria Carriço Fidalgo and Maria Jesus Silva.
Born in Setúbal, Portugal, he emigrated to New Bedford with his family on December 3, 1983. Mr. Fidalgo was employed as a commercial fisherman aboard several New Bedford fishing vessels and while residing in Portugal was the owner of the fishing vessels Jovem Fidalga and Divino Mar among others.
Mr. Fidalgo was widely respected and admired for his honesty and friendship. His life was centered around his family and he attended all of his grandchildrens' activities. He was an avid fan of Vitória F.C. and enjoyed lively discussions regarding their games.
His family includes his wife; 1 son, Diamantino M. "Tino" Fidalgo and his wife, Sandra of Acushnet; 2 daughters, Laura Fidalgo-Teves and her husband, Luis Teves of Acushnet and Dorinda M. "Dori" Fidalgo-Ribeiro and her husband, Joseph Guilherme Ribeiro of New Bedford; 6 grandchildren, Sarah Rodrigues, Phillip Teves, Catarina Teves, Beatriz Ribeiro, Kyle Fidalgo and Caitlin Fidalgo; 1 great-grandchild, Charlotte June Rodrigues and several nieces and nephews.
He was predeceased by 2 sisters and 2 brothers.
In lieu of flowers, donations may be made in his memory to the charity of one's choice.
Private funeral arrangements entrusted to AUBERTINE-LOPES FUNERAL HOME, 129 Allen St., New Bedford.