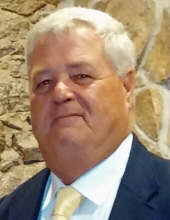 Obituary for Edward A. Cormier, Jr.
NEW BEDFORD-Edward A. "Ted" Cormier, Jr., 63, of New Bedford died Tuesday, June 16, 2020 at Rhode Island Hospital following a brief illness. He was the husband of Ludovina "Vina" (Andrade) Cormier. They would have celebrated 40 years of marriage in August, 2020.
Born in New Bedford, he was the son of the late Edward A. Cormier, Sr. and Elaine (Magnant) Cormier.
Ted was employed as an accountant for High Point Treatment Centers.
He was a devoted family man and his grandchildren meant the world to him. They always brought a smile to his face. Ted loved sports, but the game of golf was his favorite and he was a talented player. He was a member at Whaling City Golf Course, where he taught both sons, Jonathan and Andrew how to play the game. Getting beat by dad became a regular weekly occurrence. He played in many tournaments and Pro Ams with Earl Bucklin and the late George Fagundes among others. His claim to fame was having 2 hole in one's. He was a friend of Bill W. His family includes his wife; 2 sons, Jonathan E. Cormier and his wife, Elizabeth and Andrew C. Cormier and his wife, Marcie, all of New Bedford; 1 brother, Michael Cormier and his wife, Ann Marie of Virginia; 2 sisters, Elizabeth Cormier and her husband, Joe Murphy of Pennsylvania and Susan Cormier and her husband, Frank Drumm of Virginia; 4 grandchildren, Lilyana, Liam, Gabriel and Isabella; several nieces, nephews and close friends.
In lieu of flowers, donations may be made in his memory to the American Cancer Society, 3 Speen St., Framingham, MA 01701 or you may donate online at cancer.org. or to Hasbro Children's Hospital, Development Office, P. O. Box H, Providence, R. I. 02901..
Due to current mandated restrictions, his visitation, Mass of Christian burial in Holy Name Of The Sacred Heart Jesus Church and interment in St. Mary Cemetery were private and entrusted to AUBERTINE-LOPES FUNERAL HOME, 129 Allen Street, New Bedford.