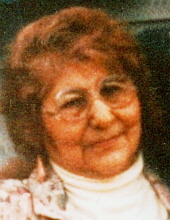 Obituary for Georgie J. Tewes
NEW BEDFORD-Georgie J. (Neconie), 91, of New Bedford, died Saturday, June 27, 2020 at home surrounded by her loving family. She was the widow of William H. Tewes and daughter of the late George Neconie and Effie Domebo.
Born in Stecker, Oklahoma, Georgie was a proud member of the Kiowa Tribe of Oklahoma. She resided in Pennsylvania, in Ohio for a short time and in New Bedford for 30 years. Georgie was a Christian woman and was devoted to the Pentecostal faith. She was employed as a Certified Nurse's Aide until her retirement and loved to play bingo in her leisure time.
Her family includes her 3 daughters, Charlotte Neely and her companion, David Harris and Lavonne Sadler (late husband, Gary), all of New Bedford and Teresa Barrows and her companion, Gary Davis of Glasgow, Kentucky; 9 grandchildren, 13 great-grandchildren, 4 great-great-grandchildren and several nieces and nephews.
She was the sister of the late Jackie Yellowhair, Andy Domebo and Jerry Redbone.
Her graveside service will be conducted on Thursday, July 2, 2020 at 12:30 P.M. in Rural Cemetery with a procession departing from the funeral home at 12:15 P.M.
Funeral arrangements entrusted to AUBERTINE-LOPES FUNERAL HOME, 129 Allen St., New Bedford.