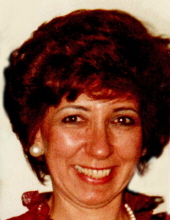 Obituary for Lorraine Cooper
FAIRHAVEN-Lorraine (Galant) Cooper, 87, of New Bedford, passed away peacefully surrounded by her family on Thursday, February 6, 2020 at Our Lady's Haven following a period of declining health. She was the loving wife of Donald Robert Cooper with whom she shared 64 years of marriage and daughter of the late John and Mary (Sylvia) Galant.
Born in New Bedford, she was a lifelong resident. Lorraine was employed as a lunch aide for the city of New Bedford Public School system, as a secretary at the Wamsutta Mill, and as a salesperson for Elco Dress and Touch of Class Boutique.
She was an active parishioner of the former St. John the Baptist Church for many years and was a member of the Couples Club and Booster Club at the church. She was a also a member of the New Bedford Women's Club.
Lorraine enjoyed reading autobiographies, dancing, cooking and had a passion for clothes and fashion, but most of all she enjoyed the time she spent time with her family. She was a loving wife, mother and grandmother.
Her family includes her husband, Donald Robert Cooper; 3 daughters, Donnalee C. Williams and her husband Charlie of Carver, Char Cooper of Connecticut, and Tracey C. Eimer and her husband Steve of Minnesota; 3 grandchildren, Eric C. Williams and wife Joanna, Allison Eimer and Jake Eimer; several nieces and nephews. She was the sister of the late Dolores Motta and Deolinda Singleton
Visiting hours Friday, February 7, 2020 from 4:00 – 7:00 P.M. Her funeral will be Saturday, February 8, 2020 at 8:00 A.M. with a service to be conducted in the funeral home at 9:00 A.M. Entombment is Private.
In lieu of flowers and tributes, donations may be made in Lorraine's memory to Billy Graham Ministries, 1 Billy Graham Parkway, Charlotte, N.C. 28201.
Funeral arrangements entrusted to AUBERTINE-LOPES FUNERAL HOME, 129 Allen Street.