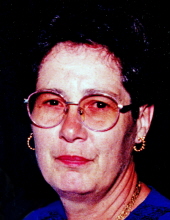 Obituary for Nancy C. Freire
FAIRHAVEN-Nancy C. (Lameiras) Freire, 81, of Fairhaven, died Friday, March 13, 2020 at Rhode Island Hospital following a sudden illness. She was the widow of João DeAguiar Freire and daughter of the late Casimiro D. and Anna B. (Amaral) Lameiras.
Born in New Bedford, she resided in Fairhaven for 37 years and was a member of The International Church Of The Nazarene.
Mrs. Freire was a hard working woman who at times worked 3 jobs to support her family. She was employed as a packer at Chatham Village Foods in Wareham until her retirement. She also worked as an office cleaner for Santos & Santos and as a seamstress at States Nightwear.
She loved all animals and nurtured many back to health including a bird that after being released, returned to her the following year.
Her family includes her son, Michael M. Freire of Fairhaven; her daughter, Deborah L. Bussiere and her husband, David P. Bussiere of Dartmouth; her brother, Joseph P. Lameiras and his wife, Roseann of Columbus, New Jersey; her aunt, Lea Correia of Connecticut; 7 grandchildren, Michael Freire, Jr., Christopher Orlowski, Jennifer Orlowski, Casey Orlowski, Joshua DeMello, the late Angel Viera and Crystal Giles; many great-grandchildren, nieces and nephews. . She was the mother of the late George "Angel" Viera and sister of the late Anne Perreira.
Visiting hours in the funeral home Monday, March 16, 2020 from 5:00-8:00 P.M. Her funeral will be Tuesday, March 17, 2020 at 10:00 A.M. in the funeral home will a service to be conducted at 11:00 A.M. Interment in Pine Grove Cemetery.
Funeral arrangements entrusted to AUBERTINE-LOPES FUNERAL HOME, 129 Allen St., New Bedford.

IMPORTANT ANNOUNCEMENT
During this period of heightened awareness due to the Corona virus, we have taken proactive measures to keep the general public as safe as possible. We have multiple hand sanitizer stations and ask that you use them liberally when visiting. Common areas will be cleaned every 15 minutes or when possible. We ask all attendees to exercise personal responsibilities and common sense when paying respects. If you feel ill, please stay at home and send a card or online condolence. We are guided by the city of New Bedford Health Department and CDC and we will enforce their policies as they become available.

Thank you.